Stanford:

#15 Venus >Williams
6'1", 160 lbs, RH, 2H-BH
Stanford:

#5 Lindsay Davenport
6'2½", 175 lbs, RH, 2H-BH
Seed this!:
On Sunday at Stanford, 2nd-seeded 28-year-old # 5
Lindsay Davenport
of the US defeated her fellow American top-seeded 24-year-old # 15
Venus Williams
7-6(4), 5-7, 7-6(4) to win the Bank of the West Classic (Lindsay is shown after match point).
Venus was up a break in the 1st set, but Lindsay broke back immediately. Venus then failed to convert 4 set points when Lindsay served at 5-6, and forehand errors in the tiebreak gave Lindsay the 1st set. In the 2nd set Venus got the edge when Lindsay double faulted on break point while serving at 5-5. Lindsay then went ahead a break 2-0 in the final set, but Venus broke back immediately, and both then held serve to the tiebreak.
story
Venus had been seeded 1st ahead of higher-ranked Lindsay due to injuries Venus suffered in the past year. Alhtough Venus has said that she is fully healthy now, both she and her sister # 14 Serena have been seeded ahead of Lindsay and others for this week's JPMorganChase Open in Los Angeles.
Lindsay said:
"We both played a really close match, we played our absolute best. Every set was so close, a few points here and there. I tried to mentally stay tough and play aggressive even though that brought me some unforced errors."
In the semifinals of the BOTWC on Saturday, Lindsay defeated 30-year-old # 33
Maria Vento-Kabchi
of Venezuela 6-3, 6-2, and Venus defeated her fellow American, 31-year-old # 25
Amy Frazier
, 6-3, 6-1 (photo shown).
Venus still leads 12-11
in career matches against Lindsay, and she had won the previous 6 in a row.
28-year-old Californian Lindsay
has now won 41 WTA singles titles in 74 finals (if you include the 1996 Olympic title), including 3 Grand Slam tourneys. Before the ascent of the Williams sisters, Tracy Austin was quoted as rating Lindsay's serve as the best in the WTA. Lindsay hits the ball hard and deep, but she is not as mobile as Venus. Lindsay wears
Nike
and hits with a
Wilson
"H Tour" (the same model # 1 Justine Henin-Hardenne is using), with a 95 square inch string area. Lindsay, who was trained in her youth by Robert Lansdorp (the current coach of Maria Sharapova), has been coached by Adam Peterson since March, 2003.
24-year-old Venus
occasionally picks up her mail at Palm Beach Gardens, Florida. She has won her 31 WTA singles titles by being fleet of foot as well as hitting hard and deep; her serve was once clocked at 126 mph, which was the women's record until her sister Serena hit one at 127 mph at Wimbledon this year. Venus wears
Reebok
garb and chops with a
Wilson
"Hammer" axe (the WTA says it is the H4 model). Venus is coached by her father Richard.
The BOTWC website photo gallery consists of some nice photos taken by the very good local photographer David Gonzales. The BOTWC site also does post the match scores fairly promptly
after
the match is over. There is nothing else good to say about the BOTWC website.
The main draw for Stanford had 8 seeds, with 4 1st-round byes. There were 4 qualifiers, 1 Lucky Loser, and 2 wild cards in the main draw. Qualifying finals were on Sunday.
Stanford time is GMT (UCT, ZULU) + 7 hours (=US Pacific Daylight Time, EDT +3). Early round play began at 10am local time. Stanford does NOT have live scoring.
---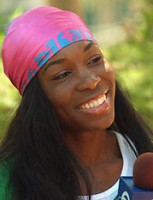 Venus Williams at the press all-access hour on Monday
Stanford, 1st Round, Mon-Tues
loser's prize: $4,230 US; points: 1
#18 s5 Anna Smashnova-Pistolesi ISR d #210 q
Jamea Jackson USA 6-1, 0-6, 7-6(3) Tues
#25 s6 Amy Frazier USA d #331 wc Amber Liu USA 7-5, 4-6, 6-3 Tues



Amy said: "I won a few close points and then got some momentum. [Amber] hit the ball so deep it was tough. It was a fun match to play."

Still an amateur and a Stanford student, Amber won the NCAA Women's singles the past two years. Amber said: "I had my chances. I was up 5-2 and 40-15 but I didn't focus enough and started thinking about the score. [Amy] played a couple of good points and gained a little bit of momentum... I have to go out with the attitude that I can stay with these girls or I wouldn't have a chance."
Amber will also play in the Acura Classic in San Diego, and the US Open. Considering turning pro, she has talked about it with Lilia Osterloh and Laura Granville, former Stanford students now in the WTA. Amber said: "It's interesting to talk to them. [With] Lilia it was obvious she was more ready to leave after one year. I haven't talked to Laura in a while but the gist I got is she missed school a lot." story



*#98 q Marissa Irvin USA d #29 s7 Meghann Shaughnessy USA 6-3, 6-1 Tues



Marissa is another former Stanford student. Marissa said: "I love playing at Stanford. Right now I'm playing tennis as well as I ever played, even though my ranking is not the best I've had. But I feel confident in the way I'm playing."



#33 s8 Maria Vento-Kabchi VEN d #34 Eleni Daniilidou GRE 6-3, 6-7(6), 7-6(6) Mon


Maria Vento-Kabchi races a little Porsche after her Monday night win


#38 Jelena Kostanic CRO d #116 q Ashley Harkleroad USA 7-5, 4-6, 6-1 Weds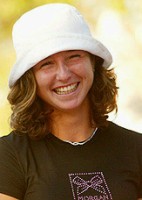 Jelena Kostanic at the player party on Wednesday


*#66 Marion Bartoli FRA d #39 Elena Likhovtseva RUS 6-1, 6-4 Weds
#41 Nicole Pratt AUS d #49 Jelena Jankovic SCG 6-4, 6-3 Weds
*#101 LL Mashona Washington USA d #44 Claudine Schaul LUX 7-5, 6-1 Tues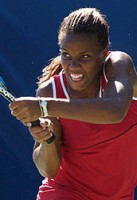 Mashona Washington


*#135 q Lioudmila Skavronskaia RUS d #47 Petra Mandula HUN 3-6, 6-2, 6-3 Mon
*#59 Anca Barna GER d #56 Iveta Benesova CZE 7-6(3), 4-6, 6-4 Mon
#63 Arantxa Parra Santonja ESP d #76 Alina Jidkova RUS 6-2, 6-1 Mon
#96 Lindsay Lee-Waters USA d wc #159 Angela Haynes USA 6-2, 6-4 Mon


Stanford, 2nd Round, Weds-Thurs
loser's prize: $7,850 US; points: 25
#5 s2 Lindsay Davenport USA d #135 q Lioudmila Skavronskaia RUS 6-1, 6-1 Thurs


Lindsay Davenport




Lindsay said: "[Lioudmila] did come up with some good shots but for the majority of the match I was able to dictate and be in control of the points. It's tough when you're not sure what to expect [because they had never played before], though 80 to 90 percent of the time I play I worry about myself first. If I play up to a higher standard I should be successful." story

Lioudmila said: "I was a little nervous. This was my first match against a top-10 player. It's hard to play someone so focused. [Lindsay] applies so much power to her shot she doesn't give you options."



#15 SR4 s1 Venus Williams USA d #96 Lindsay Lee-Waters USA 6-1, 6-1 Weds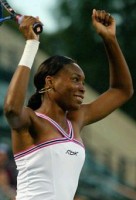 Venus Williams




About her injuries over the past year, Venus said: "They're definitely behind me. I think I was moving better, and definitely just feeling a whole lot better as far as not being winded. ... In these conditions, it's not really warm to me at all. I could run forever, it seems." story 1

Lindsay Lee-Waters said: "Venus is great, but I never relaxed and played my game. I let her dictate to me. I served poorly and played too many balls down the middle, but she's such a good player it's hard to play your game. It was a little overwhelming." story 2



#16 s3 Patty Schnyder AUT d #41 Nicole Pratt AUS 6-3, 6-2 Thurs



Patty said: "It was a nice match. I felt good and served well. I'm ready to play better. My game is there."
About her quarterfinal opponent, Amy Frazier, Patty said: "[Amy] has a lot of experience and she's a dangerous player. We had a great match at Charleston... It's fun playing her. Her serve is sometimes shaky, so I think I can break her."



#17 s4 Francesca Schiavone ITA d #38 Jelena Kostanic CRO 6-4, 3-6, 7-6(2)Thurs
#18 s5 Anna Smashnova-Pistolesi ISR d #63 A Parra Santonja ESP 3-6, 7-5, 6-2 Weds
#25 s6 Amy Frazier USA d #66 Marion Bartoli FRA 6-3, 7-6(0) Thurs
#33 s8 Maria Vento-Kabchi VEN d #59 Anca Barna GER 6-2, 6-2 Weds
*#101 LL Mashona Washington USA d #98 q Marissa Irvin USA 6-1, 3-6, 6-3 Weds


Stanford, QFs, Fri
loser's prize: $14,500 US; points: 49
#5 s2 Lindsay Davenport USA d #101 LL Mashona Washington USA 6-4, 3-6, 6-1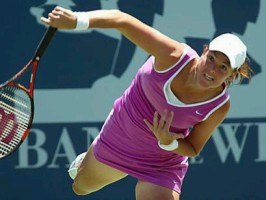 Lindsay Davenport




Lindsay said: "[Mashona] surprised me with the way she came out. She was being aggressive and going for shots, and her serve was great. The way she came out, I thought it was going to be a tough day... The most important thing was breaking her in the second game [of the 3rd set]. From there I played a little more calm, and a little bit smarter."

Mashona, sister of former ATP player Malivai Washington, had reached the 2nd quarterfinal of her career. Mashona said: "I'm not disappointed at all. This was a great tournament for me. It tells me I can compete at a high level. Now it's a matter of playing consistently." The win will put Mashona in the top 100 for the 1st time in her career.



#15 SR4 s1 Venus Williams USA v #18 s5 Anna Smashnova-Pistolesi ISR 6-0, 6-3
*#25 s6 Amy Frazier USA d #16 s3 Patty Schnyder AUT 6-3, 7-6(4)



Amy said: "I felt I was able to make my ground strokes. I love California, I love this area and I love the hard court. It's relaxing. When you're comfortable, it helps you play better."
Amy had lost to Patty in three sets at Charleston earlier this year but, Amy said, "That was one of the best matches I ever played on clay. I felt like I was in that match."



*#33 Maria Vento-Kabchi VEN d #17 s4 Francesca Schiavone ITA 6-4, 6-1


Stanford, SFs, Sat ESPN-TV 11am PDT
loser's prize: $27,000 US; points: 88
#5 s2 Lindsay Davenport USA d #33 Maria Vento-Kabchi VEN 6-3, 6-2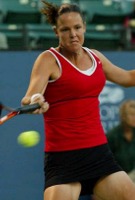 Lindsay Davenport


#15 SR4 s1 Venus Williams USA v #25 s6 Amy Frazier USA 6-3, 6-1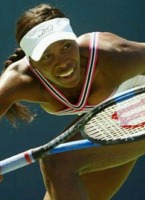 Venus Williams
Amy has a history of trouble with her serve, which, as Mary Joe Fernandez pointed out during her excellent TV commentary, features a very high toss and not much spin, leaving Amy little margin for error. Venus served first and held, then broke Amy to go up 2-0. The strength in Amy's game is in her groundstrokes and particularly in her excellent return of serve, and she broke Venus back immediately at love. Amy then held and broke Venus again to go up a break 3-2. But, plagued by double faults, Amy could not hold again, and she did not break Venus again the rest of the match.
When Venus was serving to go up 4-0 in the 2nd set, she served an ace on game point, and it was called out. The chair did not overrule the call, but Amy did, something almost unheard of in pro tennis. Amy had 14 double faults in the 15 games, but she is accustomed to this difficulty, and was smiling at the end of the match.

Venus said: "It was [Amy's] double faults that hurt her a lot, but when she hit the ball in she was really striking it and going for it on my serves and painting some lines. At this point I need someone to come out and play me tough and hard. I enjoyed the whole match." story

Amy said: "I knew [Venus] was going to return well and I felt pressure from the beginning. I felt good at the beginning of the match, but once she got the momentum and cut down on her unforced errors, she put me under pressure to go for more shots and it snowballed on me. She overpowered me in rallies because she was hitting so deep."
Many players retire by their early 30s, but Amy has no such plans at this time. Amy said: "I love playing, and I still really enjoy playing. I try not to plan anything too far in advance. As long as I'm enjoying playing, I'll play."

Stanford, Final, Sun ESPN2-TV 1pm PDT
loser's prize: $ 50,000 US; points: 137
winner's prize: $ 93,000 US; points: 195
#5 s2 Lindsay Davenport USA d #15 SR4 s1 Venus Williams USA 7-6(4), 5-7, 7-6(4)


Stanford, Doubles Final
losers' prize: $15,700 US
winners' prize: $29,000 US
s2 Eleni Daniilidou & Nicole Pratt (cdr76) d Claudine Schaul & Iveta Benesova (cdr237) 6-2, 6-4


---
Stanford, Qualifying Finals, Sun
#98 Marissa Irvin USA d #142 Eugenia Linetskaya RUS 7-5, 6-1
*#135 Lioudmila Skavronskaia RUS d #101 Mashona Washington USA 3-6, 6-2, 6-3
#116 Ashley Harkleroad USA d #149 Vilmarie Castellvi PUR 6-1, 6-2
*#210 Jamea Jackson USA d #131 Alexandra Stevenson USA 6-7(3), 6-0, 3-1 retired

Stanford, Withdrawals
#12 Nadia Petrova RUS
#74 Lubomira Kurhajcova SVK left ankle sprain

Dasha Sharapova, Wimbledon champ Maria Sharapova's cousin, is shown on Tuesday, July 13, 2004 playing in a clay court tourney in Sochi, Russia. 8 years younger than Maria, Dasha looks like she likes to hit the ball.
Dasha's coach, 67-year-old Yuri Yudkin, was also Maria Sharapova's coach from when she started at age 4½ until she moved to Florida at age 7. Although Dasha did not start training until she was 7, Yudkin said: "there are many similarities between the two." story

Dasha double-bageled her 1st-round opponent, 10-year-old Nastya Antipova, 6-0, 6-0 in just 36 minutes.
Dasha reached the final in Sochi before she was defeated by 10-year-old Muscovite Katya Tugarinova, 6-1, 6-2.

Place your bets now for Wimbledon 2012.


Dasha Sharapova
RH, 2H-BH

The Bank of the West Classic is the first WTA
"US Open Series"
tourney.
What is that thing?
The USTA has launched a new promotional framework in 2004 called the
US Open Series
. The idea is to group together the (mostly) US summer hardcourt tourneys leading up to the US Open. This includes 10 WTA & ATP tourneys in 9 cities over 7 weeks. The USTA says they have created a more orderly TV schedule for these events, including
100 hours of live prime-time (mostly cable) coverage
over 6 weeks.
US Open Series TV Schedule
Also, players who do well in these particular tourneys will be awarded "US Open Series Points" at each tourney. This year, the men's and women's US Open Series winner (the ones with the most points from all events combined) will each given a
50% bonus over the prize money they earn at the US Open
, while the 2nd place finishers in the Series receive an additional 25%, and the 3rd place finishers awarded an additional 10%. That might be a lot of money. In 2005 these bonuses will be even larger, 100% for the winners (that means that if they win the Series and the Open both, their prize money for the US Open plus bonus will exceed $2 million), 50% for 2nd, and 25% for 3rd.
Opinion:
This should work well for the USTA, WTA, and ATP if they explain it well enough to the fans, and if the TV is really good. Unfortunately the TV is still spread over 5 different cable and broadcast networks. And there has been a strong tendency in TV tennis to show boring blowout matches that feature overly hyped big names, while close, exciting matches between unhyped names are ignored. If they keep showing matches that they know in advance from the pairings are likely to wind up 6-1, 6-0, and the announcers do us the favor of reminding us every few minutes of how boring the match
that they chose to show
is, then no amount of additional promotion is going to help.
The down side:
The prize money bonuses are strictly a rich get richer deal. This is great for people who are already making millions, but does little or nothing for journeyman players whose annual prize money is in 5 figures instead of 7. Their only advantage is if the scheme really helps increase interest in tennis as a whole, sells more tickets, and raises TV ratings. That might seem iffy to them. If it works, great. To make it work, they have to do the TV really well.
On second thought:
It is unfortunate that the USTA, ATP, & WTA think they will get the best "hype" value by handing out extra millions to already rich players, while they can't afford to give the poor fans
good live scoring and a good photo gallery at every tourney
. Improved tourney websites with live scores and lots of good daily photos would be much better ways to sustain fan interest over the pro tennis season, so that people fill the seats when the show comes to town.
The WTA tourneys in the US Open Series are:
Bank of the West Classic, Stanford
JP Morgan Chase-Audi Open, Los Angeles
?Acura Classic, San Diego (possibly)
Rogers AT&T Canada Cup, Toronto, CAN
Olympic Tennis, Athens GRE (apparently)
Pilot Pen Open, New Haven
See also: QuickShop: Sporting Goods
WTA PhotoRankings - Martina Hingis - Anna Kournikova - Tennis Articles - 2004 WTA Schedule and Links
Current WTA Results & Tennis News
You can link to many Real Video postmatch interviews of WTA players at the
2004 WTA Player Interviews
page.
WTA PhotoRankings
:
the current top 20 Women's Tennis rankings with player photos, links, and bio info.