WTA Feb 7-13

Open Gaz de France, Paris, FRA Tier II
$585,000 - 28 players - indoor: greenset
Live Scores - draws & schedule .pdf
Yahoo! news photos - Paris Weather
Paris WTA Photo Gallery
# 2 Serena Williams
# 3 Amelie Mauresmo
# 4 Maria Sharapova
# 12 Nadia Petrova

Indian Open, Hyderabad, IND Tier IV
$140,000 - 32 players - outdoor: hard
Live Scores
draws & schedule .pdf
photo gallery - Yahoo! news photos
Hyderabad: weather - India map - Hindustan Times: Tennis
# 56 Na Li
# 58 Anna-Lena Groenefeld
# 60 Tatiana Panova RUS
# 61 Jie Zheng CHN





Paris:

#47 Dinara Safina
5' 11˝", 154˝ lbs, RH, 2H-BH
Hyderabad:

#131 Sania Mirza
5' 6", 119 lbs, RH, 2H-BH
On Sunday in the final in Paris
, unseeded 18-year-old # 47
Dinara Safina
from Moscow, Russia (whose brother Marat Safin plays tennis OK, too) won her 1st Tier II WTA singles title by upsetting 2nd-seeded 24-year-old # 3
Amelie Mauresmo
of France 6-4, 2-6, 6-3 (photo shown). It was the biggest win of Dinara's career.
Dinara said:
"It's the best day of my career so far and my biggest victory ever... Amélie was not playing so well. I know she already had the pressure in front of her home crowd and I tried to put some more on her during the game… She gave me a chance and I took it... Except for the second set, I never let Amélie win two or three games in a row. I didn't want to let her get out of my range. I tried to be more aggressive in the third set and push her a little bit more. I was surprised she couldn't react so I kept pushing. And it worked."
GdF interview
Amelie said:
"[Dinara] knew when to seize the opportunities. She kept going forward. As the match was going on, she was hitting the ball increasingly stronger, especially on backhand shots. There is no secret; she wanted to win this match more than I did. Unfortunately I failed in key moments, both when I was serving and when she was serving."
GdF interview
On Saturday in the final in Hyderabad, 18-year-old local resident # 131 Sania Mirza (born in Mumbai, India) became the 1st Indian woman ever to win a WTA singles title, defeating 9th-seeded Alyona Bondarenko from Kiev, Ukraine, 6-4, 5-7, 6-3 (Sania is shown holding the hardware).

Sania said: "I had a great tournament. The final could have gone either way." AP story

Alyona said: "I was really nervous playing in a final; it turned out to be a tough one."

It was their 1st WTA singles match against each other. Neither had played in a WTA singles final before-- in fact, neither tourney finalist, Sania nor Alyona, has basic bio data (other than DOB) or a photo on her WTA profile page.


Sania offcourt (file)

18-year-old
Sania Mirza
, who calls Hyderabad home, was the 1st woman from India to reach the 3rd round of a Grand Slam tourney; she lost to Serena Williams in the 3rd last month in Melbourne. Sania has won 12 ITF singles and 4 ITF doubles titles, and Martina Navratilova, who is in Hyderabad this week, was quoted as saying Sania could reach the top 50 (Sania has said her ambition is to be in the top 20). Sania wears
The Mark With Three Stripes
and swings a
Head
Liquidmetal Instinct bat (same bat as Anastasia Myskina & Svetlana Kuznetsova); she is coached by Cak Bhupathi.
Sania Mirza web photo search
20-year-old
Alyona Bondarenko
resides in Kiev, Ukraine. She is 5'9", is listed as 121 lbs, and like Sania and most players, is RH, 2-H BH. Alyona, who has won 3 ITF singles titles and 7 ITF doubles titles, has improved recently, reaching her 1st Grand Slam main draw in Mebourne this year, and reaching the QFs in Pattaya last week. She is the middle of 3 tennis-playing Bondarenko sisters, the others are Katerina, 18, who was # 2 in ITF Juniors rankings last year, and 22-year-old Valeria. The Bondarenkos are coached by their mother Natalia. Alyona wears
Lotto
& swings a
Wilson
bat.
Alyona Bondarenko web photo search
Paris:
Dinara & Amelie had played only 1 previous match: last month in Melbourne Amelie defeated Dinara 2-6, 6-1, 6-0 in the 2nd round of the Australian Open.
18-year-old
Dinara Safina
is the sister of the lesser-known (well, to WTA-specific fans, anyway) Marat Safin, who won this year's Australian Open (after letting down his partner Anastasia Myskina with a pitiful performance at Perth in the Hopman Cup). Muscovite Dinara is now 3-1 in WTA singles finals, having won in Palermo in 2003 and Sopot in 2002; this was her 1st Tier II title. Dinara is attired in
adidas
togs and chops with a
Babolat "Pure Storm Team"
axe, a new model with a 98 sq in head, weighing 11 ounces strung, slightly head light for better control, stiffness 64. Dinara hurt her low back in her 1st round match at Wimbledon last year and missed 3 summer tourneys with a lumbar spine stress fracture. It is good to see that she is OK now. Dinara is coached by both her mother, Raouza Islanova, and by Hubert Choudury.
Safina career record
24-year-old
Amelie Mauresmo
was born in St. Germains en Laye, France and has a residence in Geneva, Switzerland. Amelie is now 15-15 in WTA singles finals; she won Tier I titles 2 weeks in a row last year in Berlin and Rome. This is the 1st final Amelie has reached this year. The
Dunlop
"300G" bat that Amelie formerly wielded has reportedly been replaced by the new "M-FiL 300" model (which has specs very similar to the Babolat "Pure Storm Team"). Amelie wears
Nike
attire and shoes, and is coached by Loic Courteau. Amelie has said she is going to be working a lot with French former ATP great Yannick Noah to improve her game this year.
Mauresmo career record
3rd-seeded # 4 (on the drawsheet, # 3 this week)
Maria Sharapova of Russia was forced to withdraw
from the Paris tourney on Wednesday due to upper respiratory illness. She was replaced for her 2nd round match against
Tatiana Golovin
by Lucky Loser # 100
Sandra Mamic
.
Martina Navratilova
was playing doubles in Hyderabad, teamed with Anna-Lena Groenefeld; they retired from their SF match when Anna-Lena strained her right knee, which also forced 2nd-seeded Anna-Lena to withdraw from her singles semi.
Paris time
is GMT (UCT, ZULU) +1 hours (Pacific Time+9, ET+6).
Early round play starts at noon local time.
Hyderabad time
is GMT (UCT, ZULU) +5˝ hours (Pacific Time+13˝, ET+10˝).
Early round play starts at 3pm local time.
WTA SCOREBOARD: Paris Indoor & Hyderabad
Paris, 1st Round, Mon-Wed 12pm WTA Mon story
loser's prize: $4,025 US; points: 1
#13 s5 Nathalie Dechy FRA d #33 Jelena Kostanic CRO 7-5, 7-6(4) Wed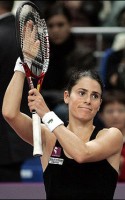 Nathalie after match point


*#47 Dinara Safina RUS d #17 s6 Karolina Sprem CRO 6-4, 6-2 Mon
#18 s7 Silvia Farina Elia ITA d #37 Klara Koukalova CZE 6-0, 6-0 Mon
#23 s8 Magdalena Maleeva BUL v #80 q Claudine Schaul LUX 7-6(4), 7-6(9) Tue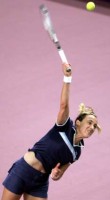 Maggie Maleeva


#24 Tatiana Golovin FRA d #103 q Severine Beltrame FRA 6-2, 7-6(7) Tue
#27 Mary Pierce FRA d #40 A Medina Garrigues ESP 6-1, 6-2 Mon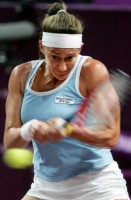 Mary Pierce




Mary said: "I think for my first match this week, it was a great start. I love playing here, especially after such a good result last year. I'm really looking forward to Wednesday's match against Amelie. It's going to be a great atmosphere, with two French players on Centre Court. It's those types of matches that you enjoy."



#28 Jelena Jankovic SCG d #52 Emilie Loit FRA 6-4, 4-6, 6-3 Tue


#65 wc Virginie Razzano FRA d #31 Anna Smashnova ISR 6-2, 6-3 Tue
*#44 q Vera Douchevina RUS d #34 Iveta Benesova CZE 6-4, 2-6, 6-3 Tue
*#114 q Selima Sfar TUN d #35 Flavia Pennetta ITA 7-6, 6-4 Tue
#36 Marion Bartoli FRA d #42 Eleni Daniilidou GRE 6-3, 2-0 retired-- right thumb inflammation Wed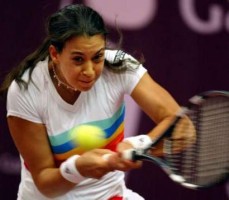 Marion Bartoli


*#96 wc Stephanie Cohen-Aloro FRA d #46 M-E Camerin ITA 7-6(5), 6-1 Mon


Paris, 2nd Round, Wed-Thu 12pm WTA Wed story - WTA Thu story
loser's prize: $7,600 US; points: 25
#2 s1 Serena Williams USA d #96 wc Stephanie Cohen-Aloro FRA 6-3, 6-2 Wed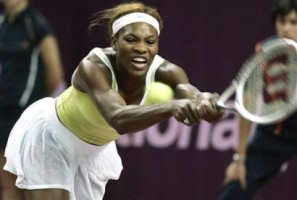 Serena Williams




Serena won the 1st 3 games, then lost the next 3, after which she got upset and smashed her Wilson nCode N3 racket. She abandoned her more flexible Wilson Hyper Hammer 6.2 for the stiffer N3 this year (she has smashed some Hammers in the past, too). Serena said: "I have a little cold and slight stomach problems. I just opted for a new racquet and it seems much more fragile... I'd better be careful. It's a special tournament for me. I won my first victory here back in 1999 and I love the city. But who doesn't love Paris?" Reuters story



#3 s2 Amélie Mauresmo FRA d #27 Mary Pierce FRA 6-4, 6-3 Thu


Amelie Mauresmo


#12 s4 Nadia Petrova RUS v #114 q Selima Sfar TUN 6-3, 6-3 Wed
*#36 Marion Bartoli FRA d #13 s5 Nathalie Dechy FRA 6-4, 6-2 Thu
#18 s7 Silvia Farina Elia ITA d #65 wc Virginie Razzano FRA 6-4, 6-1 Wed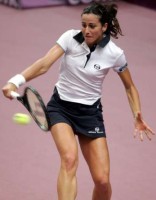 Silvia Farina Elia


#23 s8 Magdalena Maleeva BUL d #28 Jelena Jankovic SCG 6-4, 6-0 Thu
#24 Tatiana Golovin FRA d #100 LL Sanda Mamic 6-3, 6-4 Thu



Tatiana said: "It was difficult playing against Sanda, because she's a left-hander and I'm not used to playing against them. She has a great serve and I made a lot of mistakes with my backhand. Still, I managed to pull it through and win.
"I'm really excited about being into the quarterfinals here again; it's going to be a great atmosphere again with all the fans behind me and I definitely think I have my chances against Silvia [Farina-Elia]."



*#47 Dinara Safina RUS d #44 q Vera Douchevina RUS 6-2, 6-4 Thu


Paris, QFs, Fri 1:45pm
loser's prize: $14,100 US; points: 49
*#47 Dinara Safina RUS m3 d #2 s1 Serena Williams USA walkover-- gastrointestinal illness
#3 s2 Amélie Mauresmo FRA d #23 s8 Magdalena Maleeva BUL 6-2, 7-6(2)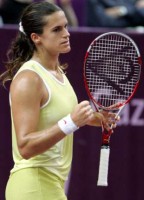 Amelie after match point




Amélie said: "I dominated the first half, but then let her get back into the match. But it's good to have a bit of a battle before the next round." AFP story



#12 s4 Nadia Petrova RUS v #36 Marion Bartoli FRA 2-6, 6-1, 7-5




Marion hurt her left knee in the 3rd game of the 2nd set, but played on. Marion said: "It was the only full match of the morning, so I couldn't let the spectators who were all supporting me down. I would have even won the match if I'd been able to hold my serve."



*#24 Tatiana Golovin FRA d #18 s7 Silvia Farina Elia ITA 6-0, 1-0 retired-- right shoulder dysfunction



Paris, SFs, Sat 1:30pm WTA story
loser's prize: $26,500 US; points: 88
#3 s2 Amélie Mauresmo FRA d #12 s4 Nadia Petrova RUS 7-5, 6-3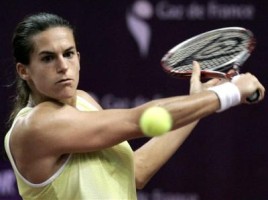 Amelie Mauresmo




Amélie said: "I started a bit slow and with a lot of tension. During the second everything started to come together. I was moving very well and played freely, going for my shots. It was a high level match and physically I played at a good level particularly during the long rallies. Playing like this has given me a lot of confidence."



*#47 Dinara Safina RUS d #24 Tatiana Golovin FRA 6-1, 4-6, 7-6(2)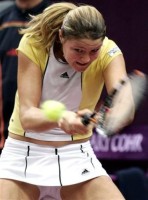 Dinara Safina
Dinara said: "[Tatiana and I] play at a good level together. In the first set, I can't say that I was playing better than her. Maybe, but I think I was playing smarter. I was hitting winners from my wrist shots and everything was going in...
"I was 3-5 and 0-30 down in the third set. I just kept telling myself to keep on fighting. I was lucky to win the match but also I have to say that I have been working very hard lately on the mental aspect of the game and that definitely showed today...
"When I came here in Paris, I hoped I could win a match. Then I won my first round and I thought I had to win another one. Then Serena retired and I said to myself: 'Now I have to take my chance to go to the final,' and I did it. This is unbelievable." GdF story

Paris, Final, Sun 1:30pm
loser's prize: $49,500 US; points: 137
winner's prize: $93,000 US; points: 195
*#47 Dinara Safina RUS d #3 s2 Amélie Mauresmo FRA 6-4, 2-6, 6-3



Paris, Doubles Final, Sun
losers' prize: $15,600 US
winners' prize: $29,000 US
*Iveta Benesova & Kveta Peschke d s1 Dinara Safina & Anabel Medina Garrigues 6-2, 2-6, 6-2

Paris, Qual Finals, Mon Feb 7
#44 Vera Douchevina RUS d #100 Sanda Mamic CRO 6-3, 6-1
#80 Claudine Schaul LUX d #120 Anastasiya Yakimova BLR 4-6, 6-4, 6-1
#103 Severine Beltrame FRA d #127 Camille Pin FRA 6-4, 6-3
#114 Selima Sfar TUN d #182 Cara Black ZIM 4-6, 6-3, 6-4

Paris, Withdrawals:
#4 s3 Maria Sharapova RUS up resp illness
#7 Elena Dementieva RUS r finger sprain
#10 Alicia Molik AUS flu

Hyderabad, 1st Round, Mon-Tue 3pm
loser's prize: $1,000 US; points: 1
#56 s1 Na Li CHN d #117 Marie-Gayanay Mikaelian SUI 6-3, 6-3 Tue



Na said: "It's a good feeling to get my strokes right from the beginning." AP story



#58 s2 Anna-Lena Groenefeld GER d #325 q Mandy Minella LUX 6-3, 6-4 Tue
*#132 wc Shahar Peer ISR d #60 s3 Tatiana Panova RUS 6-3, 7-6(2) Mon



Shahar said: "The break point in the 5th game of the 1st set gave me the confidence that I can win." AP story



#61 s4 Jie Zheng CHN d #120 Galina Voskoboeva RUS 6-4, 6-2 Mon
#67 s6 Tamarine Tanasugarn THA d #381 q Akgul Amanmuradova UZB 6-4, 4-6, 6-1 Tue
*#115 Tzipora Obziler ISR d #90 s7 Lubomira Kurhajcova SVK 6-2, 6-2 Mon
#94 s8 Maria Kirilenko RUS d #172 Bahia Mouthassine MAR 6-3, 6-1 Tue
#107 s9 Alyona Bondarenko UKR d #430 wc A Bhambri IND 6-3, 6-2 Mon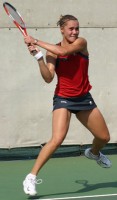 Alyona Bondarenko


#112 Evie Dominikovic AUS d #214 LL Shiho Hisamatsu JPN 6-0, 6-3 Tue
*#160 Maria Emilia Salerni ARG d #116 Roberta Vinci ITA 6-3, 6-1 Mon
*#185 Mara Santangelo ITA d #124 Jelena Dokic SCG 7-6(2), 6-3 Tue
#128 Melinda Czink HUN d #148 Shikha Uberoi USA 6-7, 6-3, 6-2 Tue
#129 Marie-Eve Pelletier CAN d #145 Ekaterina Bychkova RUS 2-6, 7-5, 7-5 Mon
#131 Sania Mirza IND d #149 Delia Sescioreanu ROM 6-2, 7-5 Tue
#138 Tiantian Sun CHN d #142 Lenka Nemeckova CZE 6-2, 6-4 Mon
*#231 q Jarmila Gajdsova SVK d #147 q Ting Li CHN 6-3, 6-2 Tue 3pm


Hyderabad, 2nd Round, Wed 3pm
loser's prize: $1,825 US; points: 12
#56 s1 Na Li CHN d #160 Maria Emilia Salerni ARG 6-2, 7-5



Na said: "I fell behind and lost my serve, but that didn't bother me. I was confident that the match wouldn't go the final set." AP story



#58 s2 Anna-Lena Groenefeld GER d #231 q Jarmila Gajdsova SVK 6-3, 6-2
*#131 Sania Mirza IND d #61 s4 Jie Zheng CHN 6-1, 2-6, 6-3




Last month at the Aussie Open Sania was the 1st Indian woman ever to reach the 3rd round of a Grand Slam tourney. BBC profile of Sania



*#138 Tiantian Sun CHN d #67 s6 Tamarine Tanasugarn THA 6-2, 6-1
#94 s8 Maria Kirilenko RUS d #185 Mara Santangelo ITA 3-6, 6-3, 7-6(4)
#107 s9 Alyona Bondarenko UKR d #128 Melinda Czink HUN 6-3, 6-7(2), 6-4
*#115 Tzipora Obziler ISR d #112 Evie Dominikovic AUS 6-3, 6-2
#129 Marie-Eve Pelletier CAN d #132 wc Shahar Peer ISR 6-4, 6-3


Hyderabad, QFs, Thu 3pm
loser's prize: $3,400 US; points: 24
*#94 s8 Maria Kirilenko RUS d #56 s1 Na Li CHN 6-4, 6-3




Last year Maria reached the final of this tourney. Maria said: "I played a good game today but there is room for improvement. This year I would like to go all the way and win the championship." AFP story



#58 s2 Anna-Lena Groenefeld GER v #138 Tiantian Sun CHN 7-6(5), 6-3



Anna-Lena said: "The game was much closer than the score line suggests, especially in the first set when [Tiantian] just didn't give anything away."



#107 s9 Alyona Bondarenko UKR v #129 Marie-Eve Pelletier CAN 7-6(5), 6-4
*#131 Sania Mirza IND d #115 Tzipora Obziler ISR 4-6, 6-3, 7-6(5)


Hyderabad, SFs, Fri WTA story
loser's prize: $6,300 US; points: 43
*#107 s9 Alyona Bondarenko UKR d #58 s2 Anna-Lena Groenefeld GER walkover-- right knee strain
*#131 Sania Mirza IND d #94 s8 Maria Kirilenko RUS 6-4, 7-6(4)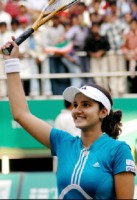 Sania Mirza
Hyderabad, Final, Sat
loser's prize: $12,000 US; points: 67
winner's prize: $22,000 US; points: 95
*#131 Sania Mirza IND d #107 s9 Alyona Bondarenko UKR 6-4, 5-7, 6-3


Hyderabad, Doubles Final, Sat 4pm
losers' prize: $3,475 US
winners' prize: $6,500 US
*s3 Zi Yan & Jie Zheng d s2 Ting Li & Tiantian Sun 6-4, 6-1

Hyderabad, Qual Finals, Mon Feb 7
#147 Ting Li CHN d #476 Julia Vorobieva RUS 7-6(5), 6-4
*#231 Jarmila Gajdsova SVK d #214 Shiho Hisamatsu JPN 7-6(3), 3-6, 6-4
*#381 Akgul Amanmuradova UZB d #218 Tatiana Poutchek BLR 6-3, 6-4
*#325 Mandy Minella LUX d #224 Anastassia Rodionova RUS 6-4, 6-3

Hyderabad, Withdrawals
#66 s5 Marta Domachowska POL r shoulder sprain
#77 Arantxa Parra Santonja ESP illness
#99 Ludmila Cervanova SVK Virus
#106 Aiko Nakamura JPN

Find
tennis shoes
made by:
adidas
--
Nike
--
Fila
--
Reebok
Find
tennis racquets
made by:
Yonex
--
Wilson
--
Head
--
Prince
--
Babolat
Find
tennis balls
made by:
Wilson
--
Dunlop
--
Penn
--
Tretorn
--
Slazenger
This page's URL is:
http://tennis.quickfound.net/wta_results_2005/paris_hyderabad_results_2005.html