The best of the pre-2004 WTA Photo Gallery:
Selected WTA player photos, mostly offcourt, and mostly from 2003.
This page was under construction when the WTA suddenly revamped their website, and took all of their old photo gallery and almost all of these photos offline. A few of these photos are still available in the new WTA Photo Gallery, but most are not. The links on the photos below will not work (Sorry!). Many photos that were in the old WTA Photo Gallery are currently still cached in the Internet Archive "Wayback Machine". They might not stay there forever, so if you want them, dig through and copy them while you still can).

The best of the WTA Photo Gallery 2003 and earlier:
ASB Classic, Auckland, January 2, 2003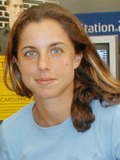 Emmanuelle Gagliardi signing autographs on Thursday

Proximus Diamond Games, Antwerp, Player Party, Feb 10, 2003

| | | |
| --- | --- | --- |
| Marta Marrero | | Nathalie Dechy & Emile Loit |
Qatar Total FinaElf Open - Doha, February 10, 2003


Conchita Martinez, Elena Likhovtseva, Tamarine Tanasugarn, Anastasia Myskina, Monica Seles and Martina Navratilova
during the opening ceremony in traditional Arabic dress

Dubai Duty Free Women's Open, February 18, 2003


Monica Seles in traditional Arabian dress on Tuesday


Justine Henin-Hardenne, Jennifer Capriati, Amelie Mauresmo, Martina Navratilova & Monica Seles
in traditional Arabian dress on Tuesday


Top seed Justine Henin-Hardenne tries on some fine jewelery at the Dubai Duty Free store at Dubai Airport

Dubai Duty Free Women's Open, Player Party, February 18, 2003

| | | | | | |
| --- | --- | --- | --- | --- | --- |
| Iroda Tulyaganova & Lina Krasnoroutskaya | | Tatiana Panova & Dinara Safina | | Claudine Schaul, Eleni Daniilidou & Justine Henin-Hardenne | |
Dubai Duty Free Women's Open, February 18-19, 2003

| | | | | | |
| --- | --- | --- | --- | --- | --- |
|  No.3 seed Jennifer Capriati tries her hand at birdkeeping | | Jennifer takes her first ride on a camel at the player party | | Jennifer was treated to a visit to the Burj Al Arab hotel's Assawan Spa Wednesday evening | |
Dubai Duty Free Women's Open, February 2002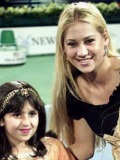 Anna Kournikova at the opening ceremony

German Open, Berlin, May 7 & 8, 2003


Fabiola Zuluaga on her way to the locker room
after upsetting No.14 seed Shaughnessy to move in to the third round


Iroda Tulyaganova reaches
her first quarterfinal of a Tier I event

German Open, Berlin, Player Party, May 8, 2003

| | | | | | | |
| --- | --- | --- | --- | --- | --- | --- |
| Marie-Gaianeh Mikaelian | | Jelena Dokic | | Chanda Rubin | | Maggie Maleeva |
German Open, Berlin, Player Party, May 8, 2003

| | | | | | |
| --- | --- | --- | --- | --- | --- |
| Nadia Petrova | | Paola Suarez & Rosanna Neffa del los Rios | | Virgina Ruano-Pascual | |
German Open, Berlin, Player Party, May 7, 2002

| | | | | |
| --- | --- | --- | --- | --- |
| Anastasia Myskina & Jelena Dokic | | Cara Black | | Daja Bedanova |
German Open, Berlin, Player Party, May 7, 2002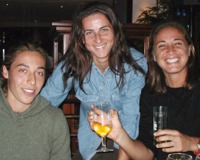 Italians Francesca Schiavone, Silvia Farina Elia, & Rita Grande

DFS Classic, Birmingham, June 11 & 13, 2003

| | | |
| --- | --- | --- |
| Tamarine Tansugarn signs a ball for the Macmillan cancer relief fund during an autograph session | | Despite playing for 2hrs and 52 minutes Eleni Daniilidou still has time to sign autographs for her fans after the match and even manages one of her famous smiles |
Hastings Direct International Championships - Eastbourne, June, 2003

| | | | | | | |
| --- | --- | --- | --- | --- | --- | --- |
| Chanda Rubin tries out a 500cc racing bike on Mon, June 16th | | British wildcard entry Amanda Janes on Monday | | Amanda Coetzer signing autographs on Tues, June 17th | | Jennifer Capriati after she reached the QFs on Weds, June 18th |
Hastings Direct International Championships - Eastbourne, Player Party, June 17, 2003


Maggie Maleeva
& Martina Navratilova


2002 & 2003 Champ Chanda Rubin
& Maggie Maleeva


Evie Dominikovic
& Samantha Stosur


Nathalie Dechy

Porsche Grand Prix - Filderstadt, October, 2003

| | | | | |
| --- | --- | --- | --- | --- |
| Posing in Eurosport's 'Magical WTA Tour Bus' coinciding with the announcement of the renewal of Eurosport's broadcast contract were players Daniela Hantuchova, Jelena Dokic and Justine Henin-Hardenne | | Daniela Hantuchova, Jelena Dokic and Justine Henin-Hardenne | | Mary Pierce is interviewed courtside by Eurosport after defeating Cara Black in the 1st round on Tues, Oct 7 |
Porsche Grand Prix - Filderstadt, October, 2002


Players Party:
Silvia Farina Elia


Players Party:
Jelena Dokic


Martina Hingis after defeating Arantxa Sanchez-Vicario
6-4, 6-2 on Oct 8th. That was Martina's last WTA victory until her return in 2006; after a 2nd round loss to Elena Dementieva, Martina announced her retirement due to chronic pain and inflammation of the ankles
(she had twice had surgery to repair torn ligaments).


Amanda Coetzer chats with fans and signs autographs Monday afternoon

Porsche Grand Prix - Filderstadt, October, 2001

| | | |
| --- | --- | --- |
| Anna Kournikova with her mother Alla & father Sergei | | Jennifer Capriati and her father, Stefano |
Porsche Grand Prix - Filderstadt, October, 2001

| | | |
| --- | --- | --- |
| Chanda Rubin, tourney MC Erika Grammer, Lori McNeil and Amanda Coetzer | | Barbara Schett |
Tennis World Celebrates 30th Anniversary of WTA Tour, Nov 2003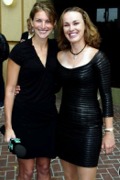 Corina Morariu & Martina Hingis

Find
tennis shoes
made by:
adidas
--
Nike
--
Fila
--
Reebok
Find
tennis racquets
made by:
Yonex
--
Wilson
--
Head
--
Prince
--
Babolat
Find
tennis balls
made by:
Wilson
--
Dunlop
--
Penn
--
Tretorn
--
Slazenger
This page's URL is:
http://tennis.quickfound.net/wta_photos_offcourt.html